The Nihar eCenter are the Franchisee Centers of the Company which will offer a Wide range of Products and Services and will act as the Last Mile Offline Touch Points. The Company has appointed KPMG to provide Advisory Services for Reviewing the Current Growth Strategy of eCommerce and eServices and Redesigning the Growth Strategy and operationalizing the same.
These eCenters would be primarily located in the Rural, Semi Urban and Urban locations as there is much need and demand for the wide array of goods and services, such as Financial Services, eGovernance Services, B2C Services like Bill Payments, Mobile Recharge, Bus Tickets etc, e-Education Services, eHealth Services, eEntertainment and Assisted eCommerce. With assisted e-commerce, the rural customers can access the same choices available globally, at the same prices and terms as any urban customer is privileged to receive.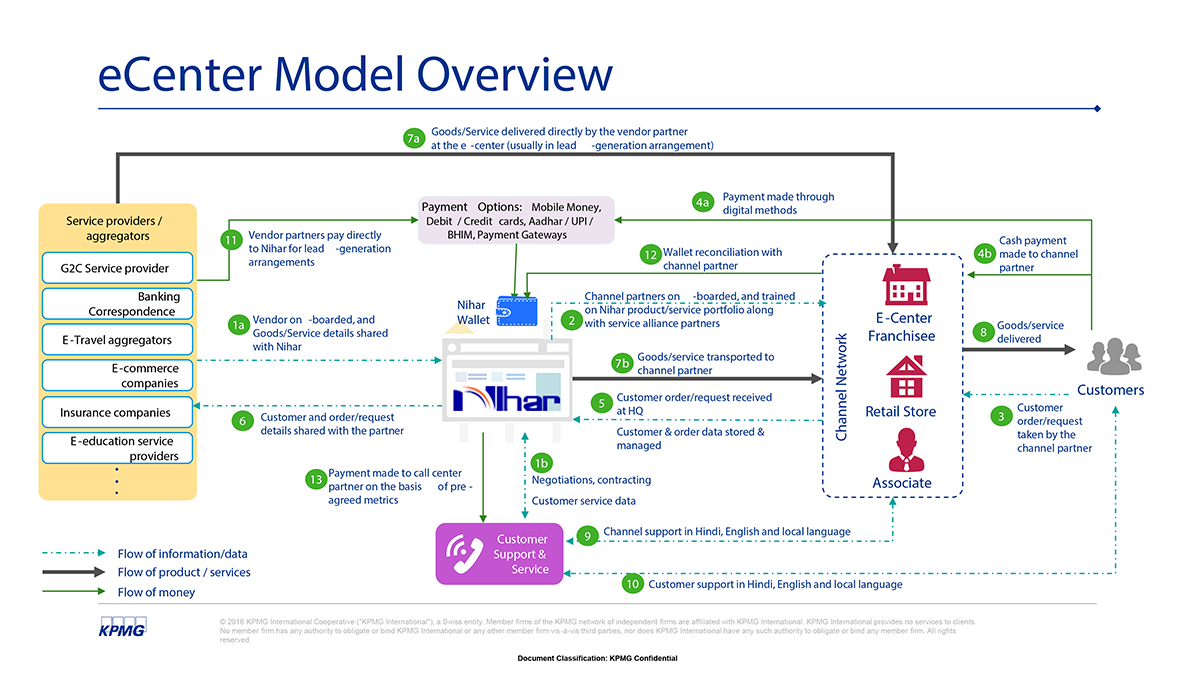 The company has signed the following six agreements and will do a pilot launch of the eCenter in the year 2017 which will have both eServices and eCommerce . The eCenter will provide more than 100+ services and more than 1000+ products.
Easy pay private limited for providing MPM Services as the associate program manager of Yes Bank through EASY PAY PRIVATE LIMITED.
Cyberplat India Private Ltd for providing various services like e-payment Transactions which includes bill collection, recharges, mobile bills, utility bills, e-coupon/e-voucher recharges and e-activation services, Domestic Money Transfer, Consumer Wallet updation, Travel Ticketing etc.
SMS DAAK NETWORK PVT LTD for B2C Services
Syntizen Technologies for Aadhaar Info Update Services
I2Space Web Technologies Private Limited for providing Bus tickets booking services, Car Rental Services, Flight Booking Service and hotel Booking Services.
Zoho Books for GST Services.
Get Up for Change Services Pvt Ltd for RTI Services
IBIBO Group Pvt Ltd (Redbus) for Bus Reservation Services